RF Bars Warrior Princess- AMHR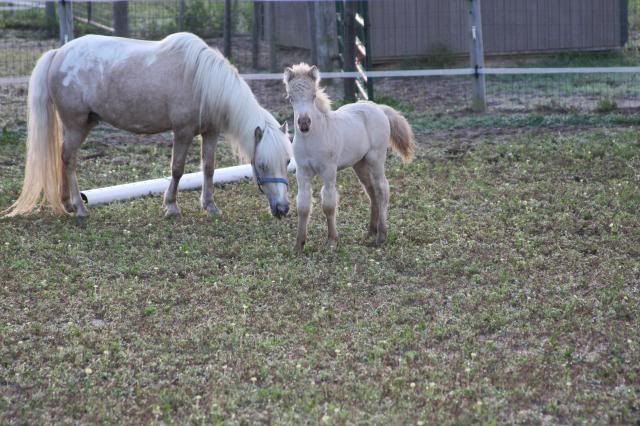 For Sale -Sale Pending !!
Xena had a beautiful Perlino Filly 5/6/12
Proven top ten producing mare.Xena is a 1999 Palomino snowcap appaloosa. She carries lines of Chianti, HNFS Chief Whitenose, Dell Tera, Komokos & Boones. Xena measures 37.00" standing square but most of her pedigree is under 34". She was registered AMHR and AMHA, but her AMHA papers were turned in by a previus owner when she went over 34"- Her 2008 perlino filly Spice officially measured at 33.50" at 4 yrs old when we hardshipped her into the AMHA. Xena gets in foal easily with no foaling problems and is a great mom and a really sweet mare, producing quality foals for us and her previous owner. Xena is offered for sale as we have retained her 2008 filly as part of our broodmare herd.
Xena is bred to Triple K Boogies Bow Tie for a 2014 foal. This cross has given us 3 foals we just love so we had to do it again - the stallion she is bred to is 29.5" buckskin-homozygous for Black.
Xena's 2008 Perlino filly from the same cross Eagles Ring Bows Spicy Mustard Seed who we have retained for a show mare and is now part of our small broodmare herd. Spice was Top Ten (7th) in her 2yr old futurity class at the 2010 Nationals
Xenas foals:
2007-colt- Black appaloosa 2008 Filly -Perlino (Xena x Bow) 2010 Colt-Buckskin appaloosa 2012 Filly-Perlino
Eagles Ring Ravens Illusion Eagles Ring Bows Spicy Mustard Seed Eagles Ring Bows Buckshot Eagles Ring Bows Fine Chynna
(Outside stallion) Xena x Bow Xena x Bow Xena x Bow
Pedigree for RF Bars Warrior Princess
Palomino Snowcap Appaloosa
"Xena" was registered AMHA / AMHR a previous owner turned in her AMHA papers when she went over 34"-Notice her pedigree is filled with small horses.
Sire
RF Bars CR Mystic Warrior-31.5"Palomino-appaloosa
Sire
Komokos Son of Running Brave-31.25"
Sire
Komokos Chief Running Brave-30"
Sire
Dell Teras Eagles
Dam
King Tuts Tinker Bell
Dam
Komokos Arapaho Girl-30"
Sire
Dell Teras Eagle
Dam
Chianti
Dam
Komokos Little Fire Water-32.5" appaloosa
Sire
HNFS Chief Whitenose-32.5"
Sire
Tweedy
Dam

Dam
Komokos Fire Cloud 35." appaloosa
Sire

Dam

Dam
RF Bars Lot-A-Dot Ginger 33.75"
Sire
Boones Little Spotted Lad-31.75"
Sire
Shady Acres Skipper-33."
Sire

Dam

Dam
Johnston's Little Trinket-33.5"
Sire

Dam

Dam
Lot-A-Dot Friendly 34"
Sire

Sire

Dam

Dam

Sire

Dam